If you've kept up with the professional road racing circuit this past couple of seasons, you've likely noticed the #OverAchieve-branded wheels being put to the test by the Giant-sponsored CCC Team. Now well beyond the phases of prototypes and development, Giant has recently unveiled this project as an entirely new line of components.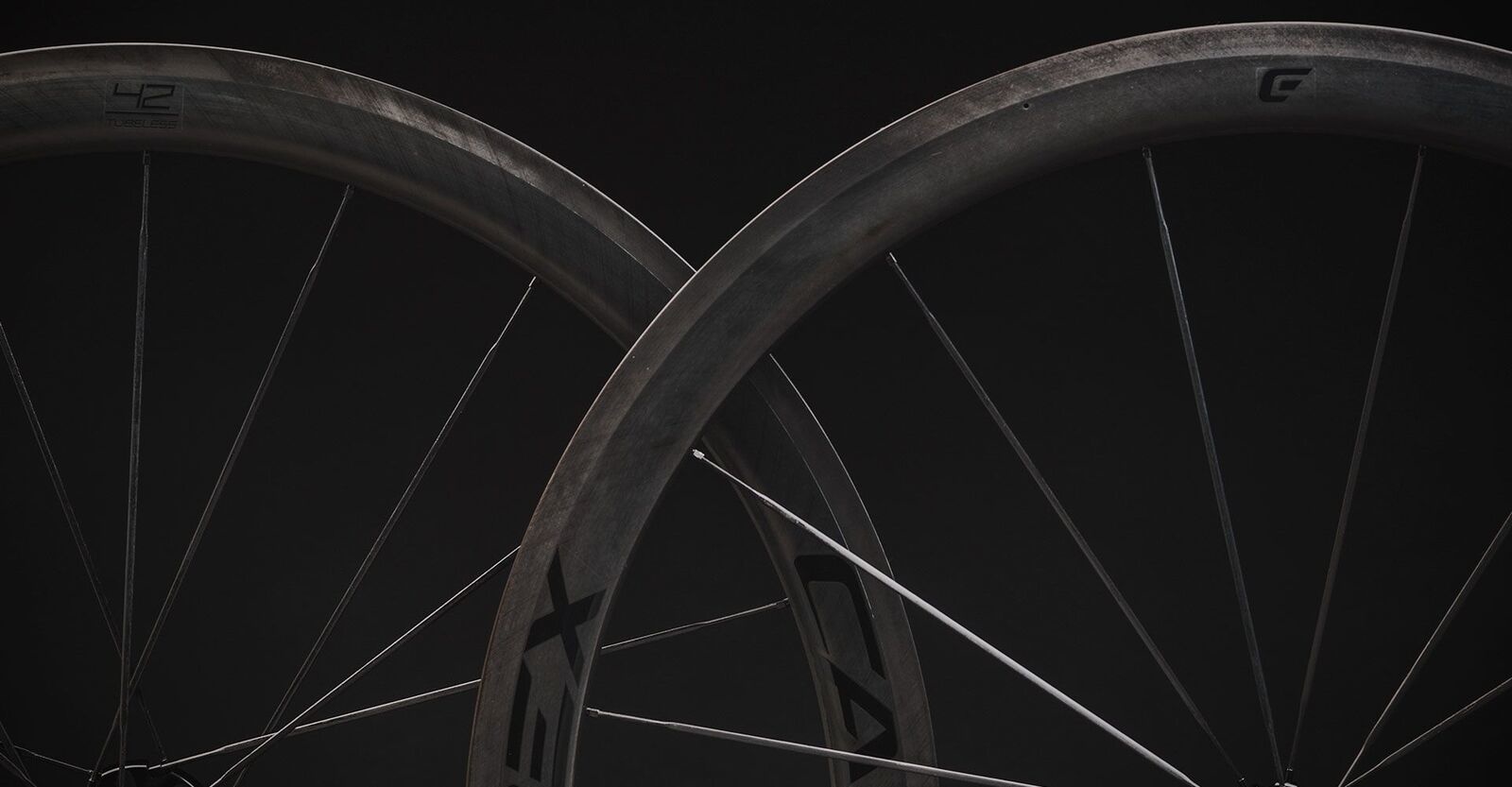 Despite being a new brand, the CADEX name is one you may recognize- it was the model name of one of Giant's earliest carbon fiber bikes in the '90s, well before the material was commonplace in the industry. The CADEX road bike was an ambitious venture and unique product at the time, which is the exact spirit Giant aimed to revive with the CADEX name. The brand's initial launch introduces a line of premium WheelSystems for both road and aero applications, tubeless tires, and saddles, with plans for expanded offerings in the future. 
Designed with an emphasis on aerodynamics, CADEX's range of WheelSystems includes the CADEX 42 and CADEX 65 for the road, and Aero Wheels (featuring a four-spoke front wheel and disc rear wheel) for time trials and triathlons. Each wheel is available either individually or as a set, and both tubeless and tubular versions. While the Aero wheels are available for rim-brake setups at this time, you do have the option of rim or disc brake compatibility for both road models. The directional carbon bladed spokes on the two road models mimic the shape of the four "spokes" on the Aero front wheel, resulting in slightly less drag overall. Each wheel features an all-new low-friction hub with "precision machined internals", which prevent excessive bearing load and reduce both friction and rolling resistance for an overall more efficiently rolling wheel. Of course, it is not enough for a brand's top of the line wheel to be fast; they must also be light. By tuning the carbon fiber layup specifically for the stresses of each part of the wheel, unnecessary weight is avoided, while the wheel's strength and durability is maintained. CADEX's WheelSystems are ultralight, and intended for riders who place the highest value on performance. 
| | | |
| --- | --- | --- |
|   | Tubeless  | Tubular |
| CADEX 42 | 1,265g/pair | 1,163g/pair |
| CADEX 65 | 1,327g/pair | 1,242g/pair |
While you can certainly pair CADEX WheelSystems with any tire, the brand's own tires were designed concurrently to be the perfect match for the rim profile. Highlighted by a new silica-based compound for increased traction, the tires have significantly less rolling resistance than similar models. This is due in part to a single-layer casing, which boasts a light weight on the scale and supple feel similar to that of a tubular tire. CADEX Race Tubeless tires are available in 23, 25, and 28 mm widths.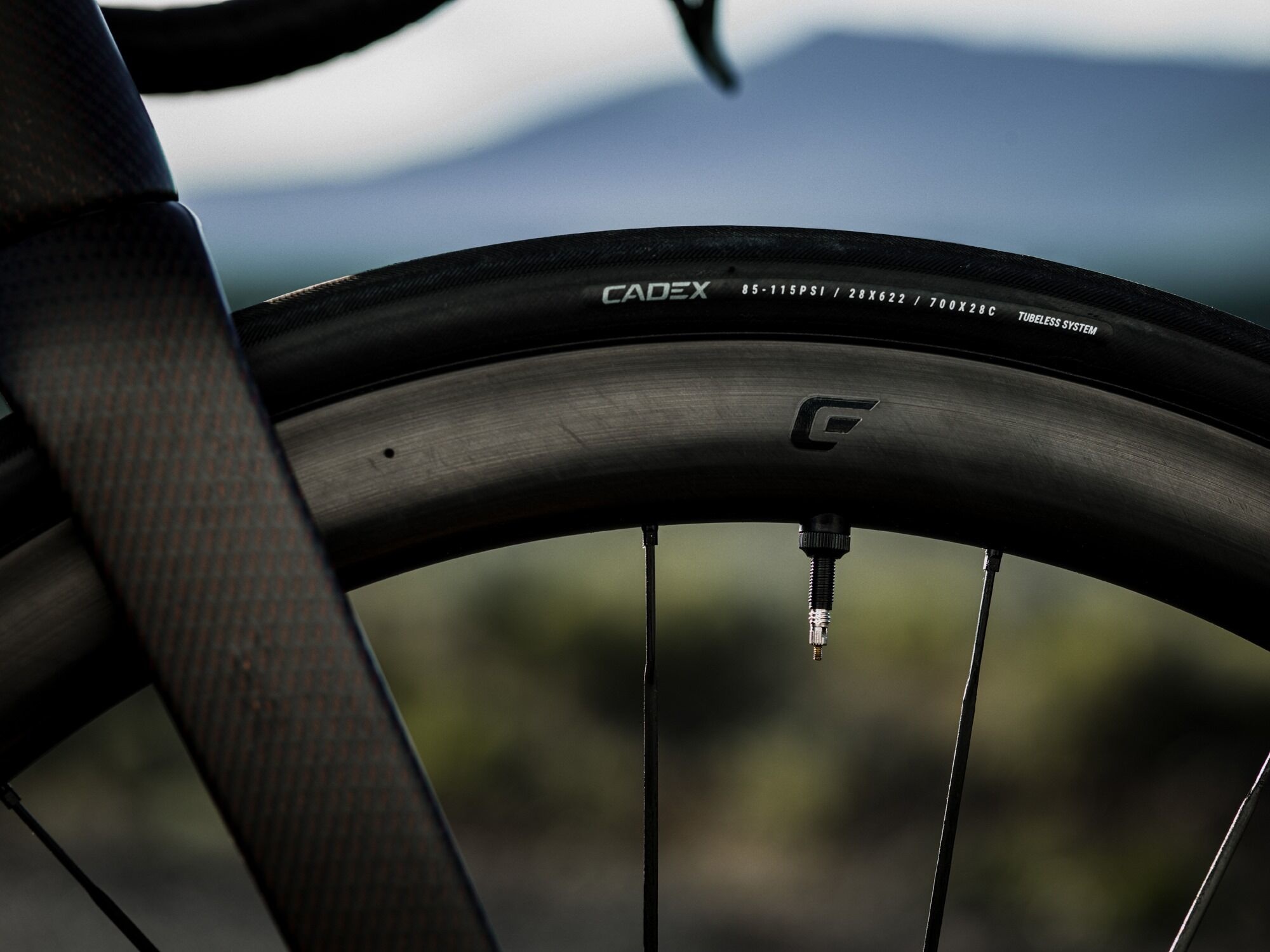 Over the past several years, we have seen a lot of brands introduce performance-oriented saddles with a shorter nose and slightly wider profile. CADEX has taken this trend a step further with a more thoughtful approach to increase rider comfort on what many brands often tout as a "one-saddle-fits-all" design (which as most of you will know, simply doesn't exist!). The biggest advantage of the CADEX Boost over similar saddles is that the integrated carbon rails are connected to the base in areas that are not contact points. This reduces and relieves pressure in spots that are problem areas for many riders. The saddle's two-piece frame is constructed using a high-pressure molding process, which CADEX claims helps to eliminate unwanted flex and promote power transfer. For long-term comfort, Boost molds to a rider's body over time. 
CADEX's line of products are certainly what would be considered an investment by most of us, but we've come to expect this of any cycling components designed for top-level performance. For top racers or everyday riders who simply want the best of what's available, CADEX is ready to compete at the front of an ever-growing market for bicycle component and accessory upgrades. We know that there are a lot of good, even excellent products out there to consider. Perhaps the icing on the CADEX cake is that the line is backed by Giant's Composite Confidence Program introduced earlier this year. For the CADEX line, this extra layer of buyer protection has been extended to 5 years (versus the 2 for Giant and Liv-branded products). Under its own name, Giant has made some exceptional wheels and components for years. While we have access to a wide range of brands, most of our upgrade-seeking customers who have weighed the options choose Giant, whether it matches their bike or not. Consistently high quality, excellent value, and an unmatched protection plan are a few of the reasons behind this. While CADEX and Giant have made a point to remain separate brands, we expect to be just as impressed with the CADEX line as we have been with everything else under the Giant umbrella. 
Cadex tires, road wheels, saddles, and kit are in store now!